·

Guests Online: 7



·

Members Online: 0



·

Total Members: 2,070


·

Newest Member: nelly



Affiliated to the World Pool-Billiard Association the Scottish Pool Association is recognised as the sole and official governing body representing the interests of Scotland's 8ball pool players.

With in excess of 17,000 members playing for 1,200 teams from 35 leagues, we compete as gents, ladies, U23, U18, learning difficulty and physical disability players at local, National, European and World level. Our national teams have amassed an impressive array of titles including a clean sweep at the World Championships. The SPA administer a series of individual and team events for players of all abilities.


| | | |
| --- | --- | --- |
| | Latest Active Forum Threads | |

2016 Blackball Ladies Pool Tour
Sponsored by Mr Bob Stirling.

I am delighted to announce details of the 2016 Bob Stirling Ladies Blackball Pool Tour which will commence on Saturday 26th March, 2016. Dates for this year's tour are noted below with all information being posted to the ladies website page www.scottishladiespool.com and our Face-book page (Scottish Ladies Pool Team). If you haven't already done so, please register on both and keep yourself up to date. Venues have at last been confirmed and are noted below for your information.

Tour Event 1 – Saturday 26th March, 2016 – Corner Pocket, Dalkeith
Tour Event 2 – Saturday 30th April, 2016 – Non-Such Snooker Club, Saltcoats
Tour Event 3 – Saturday 2nd July, 2016 – Cue Here, Airdrie
Tour Event 4 – Saturday 17th September, 2016 – Pennies Bar, Falkirk
Scottish Singles Championships – Saturday 29th & Sunday 30th October, 2016 (Venue TBC)
Tour Event 5 – Saturday 3rd December, 2016 – Cawburn Sports Bar, Livingston

Entry for the 2016 Scottish ladies tour will be £100.00, which equates to £20.00 per event. Your deposit of £50.00 is required to be paid on the first tour date (Saturday 26th March, 2016); this will secure your entry into the tour, however players MAY be permitted to pay £20.00 per event as long as this is agreed with the tour organisers in advance. Please note all Ladies tour events will commence at 11.00am sharp and you are expected to be in attendance when your match is called. It should also be noted that all draws are computerised and carried out on the day.

Bank details for direct payment are detailed below, please note if you chose to pay by this method that you ensure you reference the payment with your full name and at least a week in advance of each tour. This will allow me to go to the bank and withdraw relevant monies.

Bank of Scotland: Scottish Ladies Tour Account
Sort Code: 80-09-72
Account Number: 06000812

In line with recent years, any NEW player entering will only pay £50 for all five events (£10 per event). If the player wins prize money this will go back into the tour fund (up to the maximum £100 entry fee), if they don't win any prize money, year one of the tour will cost them a maximum of £50.

PLEASE NOTE, THE TOUR REMAINS AT 100% PAYOUT, THEREFORE ALL ENTRIES RECEIVED WILL BE PAID OUT IN THE PRIZE FUND FOR THE SERIES.

Should a new player wish to join the tour after event 1, the undernoted entry fees must be paid prior to competing:-
Event No. 2 - £80.00 (£20.00 per event)
Event No. 3 - £60.00 (£20.00 per event)
Event No. 4 - £40.00 (£20.00 per event)
Event No. 5 - £20.00 (£20.00 per event)


RANKING POINTS:
Based on 32 entries: Based on 33 – 64 entries:
Winner: 9 points Winner: 10 points
Runner-up: 7 points Runner-up: 8 points
Semi-finalist: 6 points Semi-finalist: 7 points
Quarter-finalist: 5 points Quarter-finalist: 6 points
Last 16: 4 points Last 16: 5 points
Last 32: 3 points Last 32: 4 points
Being a member: 1 point Last 64: 3 points
Being a member: 1 point

The top eight players from last year's tour will be seeded for the 2016 season. The ranking system will run over a two year period. I would also like to inform you that the tour will remain closed this year and entries will only be accepted from players residing in or eligible to represent Scotland.

Please also find enclosed a copy of undernoted policies and would ask that you read them, familiarise yourself and ensure you understand the content.
- terms and conditions relevant to the tour
- SPA Drugs Policy

FOR YOUR INFORMATION: It is hoped we will be using Pro-Cup balls in the tour this year (obviously if we can get enough sets) which will bring us in line with the recent announcement made by the EBA in regards future events.

I look forward to receiving your entry but should any queries arise, please do not hesitate to contact me or any of the international selection committee.

Yours in Sport,

(Sgd) Yvonne Ewing

Yvonne Ewing,
Team Manager.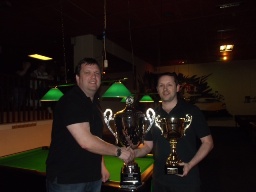 The 2011 SPA Scottish Singles Championship was held on the weekend of 5th & 6th November, 2011 in the Red Triangle, Cumbernauld. A massive thank you must go to Billy Stirling and Alan Maxwell, proprietors of the club for stepping in at the last minute to host the event. The initial venue was the Murray Owen Centre in East Kilbride but due to South Lanarkshire Leisure "double booking" the venue for this weekend we had to make alternative arrangements, all with ten days notice. I can assure you all as the Tournament Director of your association; a letter is being composed and sent to South Lanarkshire Leisure for a full explanation as to why this happened because it simply isn't good enough for you the membership.
| | | |
| --- | --- | --- |
| | Ladies Scottish Singles 2011 | |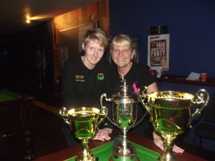 Riley's, Main Street, Bellshill was the venue for the 2011 MPK Building Services Scottish Ladies Singles Championship. Defending champion Linda Gillies was in attendance over the weekend attempting to win her 10th Scottish title. It was really difficult to find a venue after South Lanarkshire Leisure somehow double booked our venue in East Kilbride giving us ten days notice to find alternative venues. Thank you to Ross McInnes, SPA Promoter for organising Riley's in Bellshill for the ladies championship at such short notice.
| | | |
| --- | --- | --- |
| | Lanarkshire Blackball Singles 2011 | |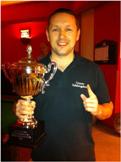 Cue Here Pool Club in Airdrie played host to the 2011 Lanarkshire Blackball Singles on Saturday 10th December where 64 of Lanarkshire's top cue men were scheduled to compete for the right to call themselves Lanarkshire's top pool player. Hot favourite was newly crowned Scottish champion and next season's Individual Membership no 1 ranked player Pat Holtz, but with from former no 1 Scott Gillespie and other top players from 7 Lanarkshire pool leagues in attendance, competition would be fierce to win the title.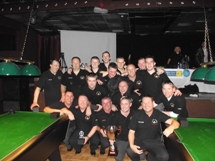 Thirty two teams were scheduled to travel to Craigtara Holiday Park, Ayr on the weekend of 18th – 20th November, 2011 to compete for the title of SPA Super 15's Team Champions. Four teams pulled out of the event which left twenty eight teams competing for the title.

The teams had been split into four groups of eight with the top six qualify through to the knock out stages. The teams finishing in first and second position in the group went through to the last 16 stage, whereas the teams finishing in third to sixth position had to endure a play-off to book their spot.



Sixteen teams were booked to travel to the spectacular Pettycur Bay Holiday Park, Kinghorn, Fife on the weekend of 25th – 27th November, 2011 to compete for the title of SPA Super 15's Team Challenge Event 2 Champions. Three teams pulled out of the event therefore thirteen teams attended to compete for the title.
| | | |
| --- | --- | --- |
| | Charity Fundraising by the Scottish Champion | |

Pat Holtz is going to be raising money for 2 charities over the next year; Marie Curie Cancer and the Childrens Hospice Association Scotland (CHAS) and would welcome donations from anyone within the SPA and/or their friends and family.

He has set up 2 online accounts through Just Giving as follows:
CHAS - Link
Marie Curie - Link

He will be offering my pool services (exhibitions, coaching, presentations) free of charge to raise these funds and would welcome any ideas to help him.

If any pubs, clubs or leagues would like to arrange a date then please get in touch via PM on here, Facebook or email (via JustGiving page).

Please pass this on to anyone who may be interested.

Could I request this item be added to the next SPA meeting agenda so that the information is passed down to all leagues via the reps?

He will update this website and Facebook with any confirmed events and monies raised.

Many thanks in advance for your help.

Pat Holtz
Scottish Champion & No1 Ranked Player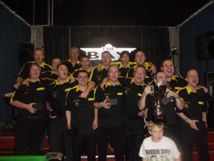 Sixteen teams were booked to travel to the spectacular Pettycur Bay Holiday Park, Kinghorn, Fife on the weekend of 11th – 13th November, 2011 to compete for the title of SPA Super 15's Team Challenge Event 1 Champions. The team from Bannockburn didn't attend the event therefore fifteen teams attended the event to compete for the title.
| | | |
| --- | --- | --- |
| | Ladies Tour Event 4 Report | |

The venue for the 2011 Ladies Blackball Tour Event No. 4 was Hustlers in Rosyth. With the 2011 Scottish Ladies Singles Championship only a week away, there was a very good turnout for this event. Once again, as ladies team manager it pleases me to say that once again there was some cracking pool played throughout this event by various players.
| | | |
| --- | --- | --- |
| | Individual Membership Event 5 | |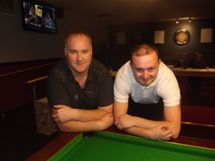 Event No. 5 of the Scottish Pool Association Individual Membership series was held in Bonnyrigg Sports Bar, Midlothian on the weekend of 22nd & 23rd October, 2011. This venue was superb with six first class tables for the 128 qualifiers from area heats throughout Scotland. IM5 excludes the top 16 and A & B category players this year so an IM titles was really up for grabs over the weekend.
| | | |
| --- | --- | --- |
| | Individual Membership Event 4 | |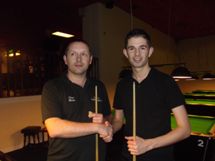 Event No. 4 of the Scottish Pool Association Individual Membership series was held in The Red Triangle, Cumbernauld on the weekend of 24th & 25th September, 2011. This venue was superb with first class tables, an a play station 3 entertainment centre; it was clear to see that the new proprietors Billy Stirling and Alan Maxwell went all out to ensure that first impressions lasted. 112 finalists had qualified through their local area heats to join the elite top 16 seeded players from the 2010 season.
Not a member yet?
Click here
to register.
Forgotten your password?
Request a new one
here
.
<< December 2016 >>

| | | | | | | |
| --- | --- | --- | --- | --- | --- | --- |
| Mo | Tu | We | Th | Fr | Sa | Su |
| | | | 1 | 2 | 3 | 4 |
| 5 | 6 | 7 | 8 | 9 | 10 | 11 |
| 12 | 13 | 14 | 15 | 16 | 17 | 18 |
| 19 | 20 | 21 | 22 | 23 | 24 | 25 |
| 26 | 27 | 28 | 29 | 30 | 31 | |
You must login to post a message.